As of June 17, this little guy is showing remarkable strength and rapid growth and development. His attempts at standing, sitting, and walking, although unsteady, have improved remarkably over the last couple days. His eyes and ears are still closed and he is about 13 days old today so I expect his eyes to open sometime this weekend. His ticking is really starting to show, the pigmentation of the pads of the feet are now very dark and the ticking is most pronounced at the extremities, but if you look at the skin at the rest of the body he has very dark skin and the ticking will continue to become more pronounced over time and I think that he will eventually look very similar to his father. He is sure to never miss a meal.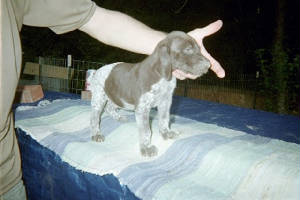 Male 2: Age - Five Weeks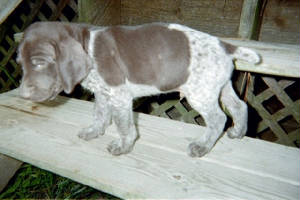 Male 2: 6 Weeks of Age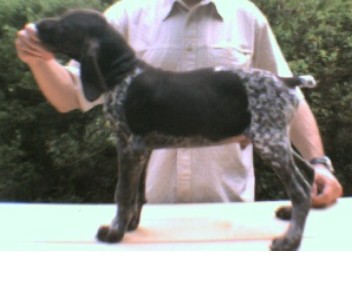 Male 2: Age 11 Weeks
July 30, He is nearly eight weeks old and he has had his second worming and first series of shots...definitely, he is by far the largest pup in the litter. Beautiful markings, strong pups, great instincts and drive. He is a going to be a superstar and I will not be suprised to hear that this pup is taking all sorts of awards down the road. I have great expectations for him and would really like to see him go to a hunting home and would like to see him entered in Hunt Tests (NAVHDA and AKC) and I think that there may be some potential for this pup to go far in competetive circuits.